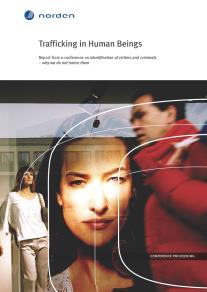 Isbn:
978-92-8932-768-8
Publisher:
Nordiska ministerrådet
Category:
Society & Culture
Accessible since:
July 2014
---
Trafficking in Human Beings
In the Nordic countries, most of the reported cases of trafficking in human beings today concern women and girls trafficked for sexual exploitation, but experiences from Europe indicate that human trafficking has increased also in farming, household work, construction, and house building, as well as in begging, shoplifting and thefts.
The conference Identification of victims and criminals – why we do not notice them on 30–31 May 2013 in Tallinn, Estonia formed the conclusion of a Nordic-Baltic-Northwest Russian cooperation project. Around 80 participants attended the two-day conference to discuss ways of identifying victims and criminals and to find answer to the question of why we do not notice victims or criminals, even though we now have available to us facts, figures, research and knowledge about human trafficking as a part of international organized crime.


---