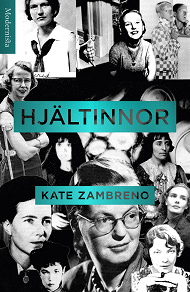 Hjältinnor
Bländande feministisk memoar om modernismens litterära myter

»Lika delar oförskräckt patos och exceptionell intelligens. Ett imponerande och originellt verk som undersöker undertryckandet av en rad kvinnliga modernister, i relation till Zambrenos eget komplicerade förhållande som författare och hustru.« | THE PARIS REVIEW

»En av årets bästa böcker. En mäktig, poetisk feministisk memoar - lika rigorös som självsäker.« | THE NEW STATESMAN

Hjältinnor är New York-författaren och feministen Kate Zambrenos hyllade »kritiska memoar«. En bok i vilken hon virtuost rör sig mellan genrer som självbiografi, dagbok, roman och essä. I grunden ligger hennes bländande feministiska forskning om modernismens myter, om till exempel Zelda Fitzgerald, Jean Rhys, Jane Bowles, Anaïs Nin och Vivienne Haigh-Wood Eliot. Dessa delar alla erfarenheten av att vara skrivande kvinnor på1900-talet, samt av att ha stämplats som mindre viktiga författare, blivit reducerade till musor åt kulturskapande män eller till och med utan grund sjukdomsförklarats.
Hjältinnor [Heroines, 2012] har tagit den amerikanska kritiken med storm och har blivit något så sällsynt som en bästsäljande litteraturessä, i vilken Zambreno omformulerar feminismen för sig själv och sin generation, samt ger läsaren välbehövliga verktyg för en ny sorts kritisk diskussion om litteratur och historia. I översättning av Helena Fagertun.

KATE ZAMBRENO [född 1977] är en amerikansk författare och litteraturforskare. Hon har skrivit två romaner: den rosade debuten O Fallen Angel [2009], som jämförts med såväl Kathy Acker som med Elfriede Jelinek och Virginia Woolf, samt Green Girl [2014]. Zambreno undervisar i skrivande på Columbia University, Sarah Lawrence College och Wesleyan University.
---