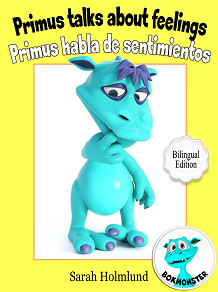 Primus talks about feelings - Primus habla de sentimientos - Bilingual Edition
Primus talks about feelings is about a monster named Primus. Every day he experiences a lot of feelings - sometimes, for example, he is sad, and sometimes he is happy. The book shows situations that evoke certain feelings in the monster that your child can easily identify with. It also opens up the possibility to further discuss other situations your child may experience these feelings in. This special bilingual edition is an entertaining little e-book that introduces the most common feelings with charming and colorful illustrations. The English and Spanish texts are set in two different colors for easy readability. Suitable for children between 3 and 6 years old.
Primus habla de sentimientos trata de un monstruo llamado Primus. Este monstruo experimenta una gran cantidad de sentimientos todos los días - a veces, por ejemplo, se siente triste, y en otras ocasiones, se siente feliz. El libro muestra situaciones que evocan ciertos sentimientos en el monstruo y con las cuales su hijo puede identificarse fácilmente. También abre la posibilidad de discutir más a fondo otras situaciones en las que su hijo pueda experimentar estos sentimientos. Este pequeño y entretenido libro electrónico presenta los sentimientos más comunes a través de coloridas y encantadoras ilustraciones. Apto para niños de 3 a 6 años.
Read sample
(Download)
---